These pictures make me laugh every single time I look at them.
They were taken on New Year's Eve, 12/31/00, in Pete's basement.

---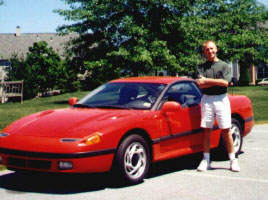 This was the first car I bought upon entering the working world - a red 1992 Dodge Stealth. I leased it to save some money and handed it back when the lease was up 5 years later. That car was a chick magnet. It even came with a scrapper to get them off your windshield upon returning home. I miss that car...
---

Here is a picture from our '96 trip to Europe. This particular picture was taken outside of where the Crown Jewels are kept. You'll notice that I am trying not to laugh and the fine gentleman on the left looks none-too-pleased. It seems I was not very in-tune with British traditions. Just before this picture was snapped I thought a cute pose would be for me to put my arm around this guy. Apparently that is a no-no. He lept back and yelled in a fine British accent, "What are you, some sort of fag?!"

---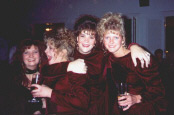 Tamara, Carol & Bev (with high-hair)
from Bill & Holly MacFall's wedding,
a couple years before I met Bev.



Click Below to Go To More Scans!
---
Number of Visitors to this Page:

Revised: January 22, 2011